LinkedIn is the must-have social network for professionals and a powerful tool for your communication strategy.
In 2020, Linkedin has more than 722 million members worldwide including 20 million in France and more than 50 million companies. It is therefore highly recommended to be present on this network as an association or network in 2020.
This network offers multiple advantages to increase your business:
1. DEVELOPING YOUR AWARENESS AND REPUTATION
With LinkedIn, you will be able to effectively publicise your association and
develop your notoriety
and
reputation
by sharing news from your network, information related to your sector of activity and various content proving your expertise.
The relevance of the information shared with your page's subscribers will allow you to gain visibility with the increase in the number of shares, fidelise your community and attract new members.
Having a page on LinkedIn complements your website and helps improve your eReputation by giving people information about your business, your users and your communication.
Linkedin offers you a
considerable database of members
and is an ideal prospecting tool for developing your business. You can quickly find and contact
people in your target audience
who may be interested in your association.
A quick search and a message is enough to create a potential future member.
3. MONITORING YOUR SECTOR
Many associations are present on LinkedIn and regularly publish new information about their activities and new trends in the market. All this information is gathered in one network. You will be able to easily keep up to date with the latest news and anticipate new marketing actions.
To take full advantage of these benefits, it is important to have a LinkedIn page dedicated to your association. Moreover, this page will allow you to bring credibility to your future members and your members can become valuable ambassadors to promote your association.
In this article, we will guide you step by step in the creation of your company page.
3. MONITORING YOUR SECTOR
Creating a page for your association is relatively simple, however there are a few important elements that must be respected:
You must have a personal profile with your first and last name and this account must have existed for at least 7 days
You must have filled out your profile and have made connections with several people
You must be a member of the association and have filled in the "Experience section of your profile"
You must have a professional email address with the domain name of the association (@myassociation.fr)
Once these steps are completed, click on the "products" tab at the top right of your profile

Then on "create a LinkedIn page"

Choose your page type and fill in all the required fields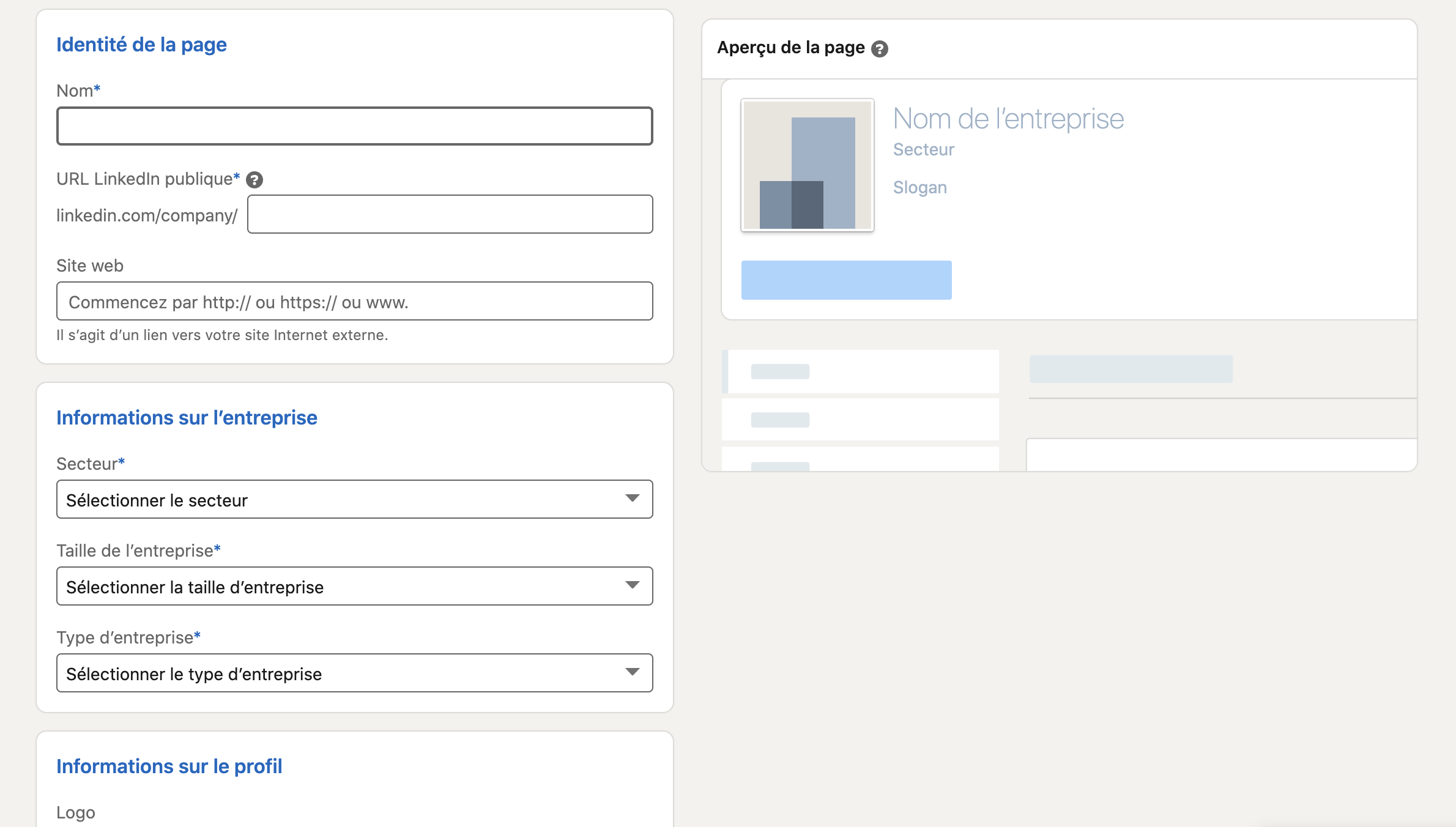 Many associations think they have a company LinkedIn page when it is actually just a profile.
This solution is proscribed by LinkedIn. A LinkedIn profile should be attached to a real person, not a company name. The risk is to have an account deleted overnight with no history of the various publications.
Moreover, the latter miss out on many features that this network offers for company pages such as the possibility to make sponsored ads or to have statistics customized to your company page such as :
the number of page views
the number of unique visitors
the demographics of your visitors
visitor engagement for your posts
…
You now know how to create your company page. A new blog post will soon be created on how to use this social network: Which publications, how often and when.