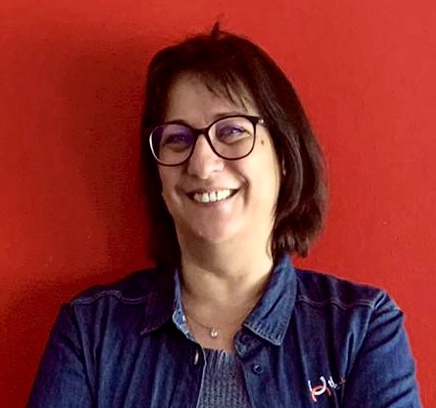 "The Netanswer solution has enabled us to become more professional in all our actions and to be more credible towards our members thanks to the different modules we have at our disposal (…) With Netanswer, we can design our solution according to our needs. The solution is modular, the modules are interconnected and communicate directly with the directory."
How long have you been a Netanswer customer?
We have been working with Netanswer for 10 years. Before Netanswer, we had a website that had been developed by a company that was not a specialist in our field. We had a web portal and a sort of directory… The two tools were difficult to link and we could not make the association's project evolve. So we looked at other solutions available on the market that could meet our needs. At the time, we were approached by three providers: Salesforce, Alumnforce and Netanswer.
We decided to go with Netanswer for the implementation of a new platform for two reasons:
The first is that the solution is completely modular. We were able to design our website according to our needs: we were able to buy "part of the solution" and choose the modules that would make up our future website without being obliged to invest in all the available modules. In this case, we started by buying the CMS, Directory and Calendar modules at the time.
The second reason is that the Netanswer solution can be interfaced with various CRMs. So we could link the data with the school's CRM. This was an important point, as an independent association, we needed to have a tool that could connect with the TBS Education school.
What has Netanswer done for you since it was set up in the development of your association?
Credibility, modernity and professionalism.
Our association has grown with the Netanswer solution.
When I was hired in 2006, we were an association and we represented only the Grande Ecole Programme. There were two other associations representing the specialised masters and the bachelors. We changed our statutes to be able to represent all the graduates and students of all the programmes of the TBS group.
After these changes, we still had a major problem: we didn't have a tool that allowed our volunteers to be autonomous and efficient for the animation and management of the association, we lacked modernity… Especially since the social networks Facebook and Linkedin were becoming more and more important.
The implementation of your solution has changed the situation. We went from being an association that was trying to grow to a graduate association worthy of the name. Because we had a solution adapted to our needs, that's what made us take off.
The Netanswer solution allowed us to become more professional in all our actions and to be more credible towards our members thanks to the different modules we had at our disposal.
For example, when we decided to set up the employment module, we had a tool that was easy to use and accessible to all the association's administrators. We didn't have to fumble around as we had done in previous years with service providers who were less familiar with our business constraints. With Netanswer, all we had to do was connect the module and it worked.
The same thing happened when we decided to use the online voting module… After changing the association's statutes to allow remote voting, we were able to offer our members a solution that worked. The fact that this module has been tested by other Netanswer customers who do the same business as us and that it is a module built to meet our needs is reassuring, it gives a perception of great professionalism and it gives us credibility.
What are the main benefits of our solution for the management of your association?
1. Saving time
The first benefit is the time saving that your solution offers us. At TBS Alumni, we have 4 and a half full-time equivalents to run an association of 50,000 members. Five years ago, we were 7. As the netanswer solution evolves and makes our life easier, we have reduced our payroll. Now we do much more and much better, but there are only 4 and a half of us…
The Netanswer tool has enabled us to save time on repetitive, time-consuming tasks. The tools are accessible and within everyone's reach, it's easy! I don't have to wait for the communications manager to be present to create a professional email because I have templates at my disposal with the Mail Builder, and the same goes for creating pages on the website with the Page Builder. The real advantage is that your tool has been adapted to the skills required today and this allows us to modernise. Last September, we were able to recruit a communications professional: Mathilde. In addition to having a competent person, we also had an evolution of the tools that allowed her to create more striking, more modern communications, which has a positive impact on our visibility and visits to our site.
2. Interactions with other Netanswer customers
Furthermore, the possible interactions with other Netanswer customers through the Users' Club or, more recently, through the Club Netanswer website are a real advantage. This allows us to share common problems and exchange information about our businesses. I remember a time when we were trying to value our members according to their involvement in the association (membership fee, profile update, board member…) Edhec Alumni had exactly the same problem and their reflections were a bit more advanced. Fabrice put us in touch with Edhec Alumni and they took on the development (use of badges to enhance a member's profile). We were able to test the solution as a beta-tester and have it available well before the other clients. I find it extremely innovative and super efficient. Similarly, when we upgraded the online shop to use it as a marketplace, we covered the development costs and your other customers were able to benefit from it.
As far as project management is concerned, I don't know of any other company that offers to work this way. The fact that you can pool the developments made: accounting, financial… It's a huge advantage. This way of working allows you to be up to date on the needs and problems of associations and gives you the necessary hindsight to prove to us that sometimes certain ideas are not viable.
3. Modules plugged into the directory and interconnected
Finally, the fact that the modules are interconnected and communicate directly with the directory is a real benefit. I don't need to have multiple databases, multiple excel files to have an up-to-date and qualified database. Our volunteers are obliged to use the Netanswer solution for the management of the association in order to have statistical monitoring and data that is updated in real time.
Let me give you a concrete example: Every year, TBS Education organises the graduation ceremony. For this event, we ask the school's communication department to use your solution for a question of image (you become a graduate so you have to go through the graduates' association) but also for a question of updating the data. On the one hand, your tool is able to identify members present in our database even if it is an external registration (member not connected) to the event: there are alerts available that indicate if the member is present in our database. On the other hand, if a member updates their details when they register, they are automatically updated in our database. It's unstoppable!
Before your solution, during a graduation ceremony, we had to go through 850 lines (850 graduates) on an Excel file with all the risks of data entry errors associated with this processing (inversion of letters, typing errors, inversion of the first name and surname, etc.).
In my opinion, the directory is the foundation of the associations' work. Having a complete, organised and up-to-date directory ensures that an association that wishes to remain independent is protected. It proves to its parent company that it has at its disposal a directory that will always be more complete and efficient than Linkedin or Facebook. I think this is really what will allow an association to remain credible vis-à-vis schools because they increasingly need to have highly qualified data and do not know how to do this. Today, this is the sinews of war for schools, especially for ranking and accreditation issues.
Moreover, this updated directory has transformed the dynamics of the association! The connections are extremely effective. Previously, we had to chase our members to update their information or to offer their help to the network. Now, many of them write to us to offer internships, jobs, support other members, become a member of a jury, etc. We no longer need to run campaigns because we have become very visible. We used to miss this visibility a lot…
The actions possible thanks to your solution and the tools available have completely changed the situation. We receive about 5 to 6 lifetime contributions per week from populations that had completely escaped us: the promotions between 1980 and 2005. They have no proven needs (they don't post job offers, they don't apply, they don't want help, they don't ask us to do their portrait…). They come to our site and get involved because we have become credible.
What are the biggest advantages of our solution?
In my opinion, the biggest advantages of the Netanswer solution are :
Versatility: You have many modules capable of meeting our needs. All our business specificities can be covered by the modules available in your solution
Moderate costs

: Hosting is not very expensive with Netanswer and the implementation of new modules is also largely accessible. The most recent example is the implementation of the entrepreneur module, which will change our lives with regard to the new activities we wish to develop. It costs us about 2,000 € in software development… In terms of investment over a year, it is relatively affordable.

Mutualist operation:

We can easily exchange with other clients of your solution. We have common problems and we know that our proposals can be improved by other customers and vice versa we also participate in the improvement of proposals. Developments made for one client are shared and useful to all.

The client/supplier relationship:

Since we have been clients of Netanswer, everything has gone very well with the teams: we can speak frankly to each other and you listen to your clients.
Do you plan to carry out other projects with Netanswer?
We are currently working with Fabrice to continue the improvements to the directory and the company directory in order to save us even more time! In particular, to make the back-office updates more ergonomic.
We have also made some proposals to improve the user experience of graduates when they update their information on their profile.
Finally, we also have a big project on the synchronisation between the school's CRM and the Netanswer tool to further improve our database.
Would you recommend our solution to another association?

Of course I would! I must receive calls 3 or 4 times a year. In general, these people hesitate between Alumnforce and Netanswer. I don't have any comment to make about Alumnforce because I don't know how they have evolved, I don't know them. We met them 10 years ago and we decided to choose Netanswer because your solution seemed more versatile. On the other hand, I tell them about your various advantages: the versatility, the low costs, the modular and scalable solution… This is very important!
With Netanswer, they can compose their solution according to their needs and do not need to take all the available modules. Moreover, the mutual and collaborative nature of Netanswer allows them to benefit from the know-how and developments of other associations. For me, this is the undeniable advantage and I say it every time. Today, we are not able to find a tool that is as adapted to our professions and to our lack of in-house skills as your solution.